"Whataya Want from Me" (abbreviation for "What Do You Want from Me") is a song by American recording artist and American Idol eighth season runner-up Adam Lambert from his debut studio album, For Your Entertainment. It was released as the second single from the album. The song peaked at number 10 on the Billboard Hot 100, becoming his highest charted single since his digital cover version of "Mad World". The song charted within the top 10 of the charts in thirteen countries.
The pop rock song was written by Pink, Max Martin, and Shellback and was recorded by Pink for her fifth studio album, Funhouse, but did not make it to the final cut. Lambert's vocal performance of the song received a Grammy nomination for Best Male Pop Vocal Performance.
The song was included on the set list of Adam Lambert's first concert tour, the 2010 Glam Nation Tour where he performed an acoustic rendition of it during the "ballad" section of the show.
Whataya Want From Me (Music Videos)
Edit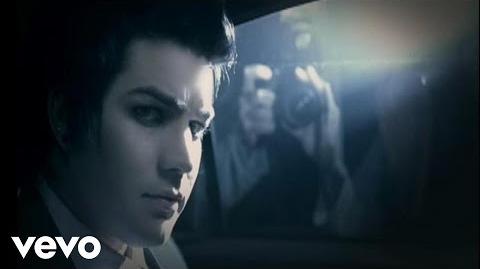 Whataya Want From Me (Lyrics)
Edit
Hey, slow it down
Whataya want from me
Whataya want from me
Yeah, I'm afraid
Whataya want from me
Whataya want from me


There might have been a time
When I would give myself away
(Ooh) Once upon a time
I didn't give a damn
But now here we are
So whataya want from me
Whataya want from me


Just don't give up
I'm workin' it out
Please don't give in
I won't let you down
It messed me up, need a second to breathe
Just keep coming around
Hey, whataya want from me
Whataya want from me


Yeah, it's plain to see
That baby you're beautiful
And there's nothing wrong with you
It's me I'm a freak
But thanks for lovin' me
'Cause you're doing it perfectly


There might have been a time
When I would let you slip away
I wouldn't even try but I think
You could save my life


Just don't give up
I'm workin' it out
Please don't give in
I won't let you down
It messed me up, need a second to breathe
Just keep coming around
Hey, whataya want from me
Whataya want from me
Whataya want from m
e Whataya want from me


Just don't give up on me
I won't let you down
No, I won't let you down


So
Just don't give up
I'm workin' it out
Please don't give in
I won't let you down
It messed me up, need a second to breathe
Just keep coming around
Hey, whataya want from me


Just don't give up
I'm workin' it out
Please don't give in
I won't let you down
It messed me up, need a second to breathe
Just keep coming around
Hey, whataya want from me
(whataya want from me)
Whataya want from me
(whataya want from me)
Whataya want from me