Obi-Wan Finale - The Loop
Play Sound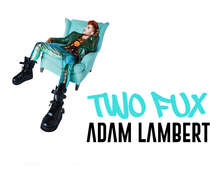 "Two Fux" is a song by American singer-songwriter Adam Lambert.
The song was written by Big Taste, Adam Lambert, Sarah Hudson, Ferras and Trey Campbell, with production handled by Mzwetwo and Big Taste.
It was released to digital retailers on June 30, 2017, through Warner Bros. Records. On June 22, 2017, Lambert made his debut of the song on the American late-night talk show Jimmy Kimmel Live!, as part of Queen's mini-concert.
Two Fux
Lyrics
I only trust my tarot cards
Pink flamingos in my yard
People think that I'm from Mars
Whatever
Only smoke that holy green
High above the big machine
Not attached to anything
Whatever

I got that magic you call ADD
Rep for them aliens different like me

If you think that what I do and how I live's too much
I don't really, really give two fucks
If you think that what I say and what I give ain't love
I don't really, really give two fucks
Here, right here, right here
Namaste right here, right here, right here
Ooh ooh ooh

I'm the center of a crowded room
I might as well be on the moon (yeah, yeah)
Searching for that one or two
Who get it (oh, yeah)
You see me talking to myself
'Cause no one gets me like myself
I've been this way since I was twelve
I get it

I got that magic you call OCD
Rep for them aliens different like me

If you think that what I do and how I live's too much
I don't really, really give two fucks
If you think that what I say and what I give ain't love
I don't really, really give two fucks
Here, right here, right here
Namaste right here, right here, right here
Ooh ooh ooh

One shot for my enemies
In the end it ain't that deep (it ain't that deep, girl)
I'mma get my inner peace
In leather (ow!)

If you think that what I do and how I live's too much (how I live)
I don't really, really give two fucks (I don't give two fucks)
If you think that what I say and what I give ain't love (I don't give, I don't give, I don't give, oh yeah)
I don't really, really give two fucks (I don't give two fucks, oh oh oh oh)
Here, right here, right here
Namaste right here, right here, right here (I don't give, I don't give, I don't give two fucks)
Ooh ooh ooh

Here, right here, right here
Namaste right here, right here, right here
Ooh ooh ooh