Obi-Wan Finale - The Loop
Play Sound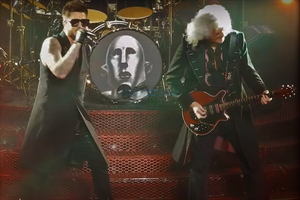 "Tie Your Mother Down" is a song by the British rock band Queen, written by lead guitarist Brian May.
It is the opening track and the second single from their 1976 album A Day at the Races. On its original release as a single in 1977 the song peaked at 31 in the UK Singles Chart, however more than 20 years later it was released as a double a-side to "No-One But You" where it reached 13 in UK Singles Chart.
On the album, the song is preceded by a one-minute instrumental intro featuring a Shepard tone melody, which is reprised in the ending of "Teo Torriatte." This was intended to create a "circle" in the album, typical, for example, of Pink Floyd's albums.
Adam Lambert, as current frontman for Queen, often sings the song at their concerts.
Tie Your Mother Down
Lyrics
Ooh, ooh yeah, ooooh yeah
Get your party gown
Get your pigtail down
Get your heart beatin' baby
Got my timin' right
Got my act all tight
It's gotta be tonight my little
School babe

Your Mamma says you don't
Your Daddy says you won't
And I'm boilin' up inside
Ain't no way I'm gonna lose out this time - oh no

Tie your mother down
Tie your mother down
Lock your daddy out of doors
I don't need him nosin' around
Tie your mother down
Tie your mother down
Give me all your love tonight

You're such a dirty louse
Go get outta my house
That's all I ever get from your
Family ties, in fact I don't think I ever heard
A single little civil word from those guys
But you know I don't give a light
I'm gonna make out all right
I've got a sweetheart hand
To put a stop to all that
Snipin' an' grousin' goin' on all night

Tie your mother down
Tie your mother down
Take your little brother swimmin'
With a brick (that's all right)
Tie your mother down - yeah yeah
Tie your mother down
Or you ain't no friend of mine - ooh no friend of mine -
No no, ow, yeah, bad guy

Ooh, your Mammy and your Daddy gonna
Plague me till I die
They can't understand it, I'm just a
Peace lovin' guy

Ooh, tie your mother down
Tie your mother down
Get that big big big big big big daddy out of doors
Tie your mother down - yeah
Tie your mother down
Give me all your love tonight
All your love tonight

Give me every inch of your love - ooh
All your love tonight
Yeah, gotta get my timin' right hey
Ooh, all your love
Tie your mother down