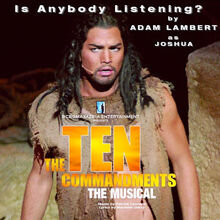 The Ten Commandments: The Musical is a musical starring Val Kilmer, with Adam Lambert in the role of Joshua.
About
The musical, which was adapted from the French musical Les Dix Commandements created by Élie Chouraqui, tells the story of Moses and the exodus of the Hebrews from Egypt. The musical features Val Kilmer as Moses, Kevin Earley as Ramses and Adam Lambert as Joshua, the successor of Moses as the leader of the Hebrews. The musical debuted on December 21, 2004 at the Kodak Theatre, in Hollywood.
Lambert as Joshua
Lambert, playing the role of Joshua, sang the number "Is Anybody Listening?,' and sang parts of "The Horns of Jericho," "Let Them Go (No Man's Right)," "The Plagues," "Light of a New Day," "Into the Deep," and "Encore."
Reception
While the musical itself was not welcomed positively by many reviewers, Lambert's vocals and acting were well received; "The cast boasts a strong assortment of steel-plated pop voices, but Adam Lambert, who plays Joshua, is the most consistent crowd-wower." [1] Further on, Lambert was said to be "given all the big vocal work on behalf of the Hebrews because Kilmer's Moses can't handle it." [2]
Lambert's live single performance is available to purchase on iTunes, currently rated with 5 stars.
See also
References