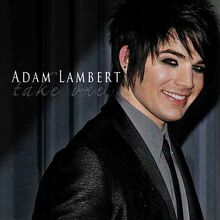 "Fields (Remix)" is the thirteenth song from Adam Lambert's first album, Take One, recorded before his participation on American Idol.
"Fields" was written by Mike Cross, Tim Cross, Mark Dombroski, Joey Mazzola, and Jimmy Paluzzi and is the third song on the album.
Fields (Remix)
Lyrics
I don't know the reason
lets just make a choice
Lets throw out the caution
just one ------ voice

So walk me through
back through the fields
when i walked down
that road i find
i already know
On with the show
If there's a god
Then god only knows
Walk me back through
Fields i knew

So when
Like when we believed
a moment in time
When we shined
so walk me through

back through the fields oh take me home
back to the fields
erase the dream
rewrite the scene
if there's a god,
then god only knows
what we should know
On with the show

Ohh, ooaahh,
ooaahh, oaah,
oaaaooahh, oaaooaahhoahh,
ooaahah, oooahh,
oaaah, oaaah,
oaahahhaa, oaaahhhh,
oaaaaahh, oaaahh,
oaaahhahhahh

Community content is available under
CC-BY-SA
unless otherwise noted.