Obi-Wan Finale - The Loop
Play Sound
"Feeling Good," originally performed by Sammy Davis, Jr., was covered by Adam Lambert on the Top 5 week of American Idol.
He has continued to sing it at some of his performances.
Top 5
For the Top 5 round, each contestant chose a song made famous by a member of the Rat Pack. Lambert chose "Feeling Good" by Sammy Davis, Jr., taken from his album The Sammy Davis, Jr. Show.
==Feeling Good =0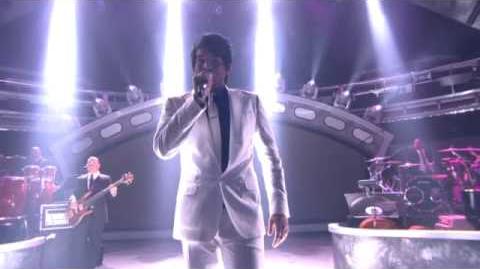 Lyrics)
Birds flying high
You know how I feel
Sun in the sky
You know how I feel
Reeds drifting on by
You know how I feel
Its a new dawn
its a new day
its a new life for me
and Im feeling good

A fish in the sea
You know how i feel
river running free
you know how i feel
blossom in the trees
you know how i feel
Its a new dawn
its a new day
its a new life for me
and i'm feeling good

Dragonfly out in the sun
you know what i mean, don't you know
Butterflies all having fun
You know what i mean
Sleep in peace when the day is done
It's an old world
It's a new world
It's a bold world
For me
Yeah

Stars when you shine
You know how I feel
Said i'll be fine
You know how I feel
Freedom is mine
And You know how I feel
It's a new dawn
It's a new day
It's a new life
For me
Oh for me
For me

And I'm feeling
I'm feeling im feeling
good

oh oh oh ohhh

oooooo

and I'm feeling....good