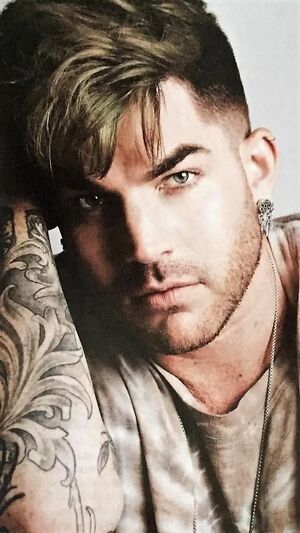 Adam Mitchel Lambert (born January 29, 1982) is an American pop and glam rock singer, songwriter, and actor.
Since 2009, he has sold over 3 million albums and 5 million singles worldwide. His discography consists of four studio albums, one live albums, five compilation albums, four extended plays, twenty singles, and thirteen music videos.
Adam Lambert's net worth is $20 million as of July 2019.
Career
Lambert finished as runner-up on the eighth season of American Idol. Later that year, he released his debut album, For Your Entertainment. The album peaked at number three on the Billboard 200. The song "Whataya Want From Me," one of Adam's best known singles, was from For Your Entertainment.
In 2012, Lambert released his second studio album, Trespassing. Adam Lambert made history when the album debued at number one on the U.S. Billboard 200, making him the first openly gay artist to top the album charts.
In 2015, Lambert released his third album, The Original High. The album debuted at number three on the U.S. Billboard 200.
Alongside his solo career, Lambert has collaborated with British rock band Queen as lead vocalist for Queen + Adam Lambert since 2011, culminating in a successful worldwide tour from 2014 to 2017. The Queen + Adam Lambert Tour 2017–2018 was a worldwide concert tour.
Adam's Voice
Critics, celebrities, and colleagues have been outspoken in their praise for Lambert's vocal command. Kathie Bretches-Urban, co-founder of Metropolitan Educational Theatre Network (now MET2) where Lambert performed as a youth, said "He has invested his entire life in music and performing. He'd just come out onstage, and it popped." Record producer Rob Cavallo once described Lambert as having an unlimited range, and able to sing every note on a guitar from the lowest to the highest. In a March 2012 interview, rock artist Meat Loaf rated Lambert's voice in the company of only two others, Whitney Houston and Aretha Franklin, based on "that jet pack quality to their voice that just lets it take off." Lambert's total recorded vocal range spans from bass E to B flat above tenor high C (E2 – B♭5), giving him three octaves and six semitones.
In 2011, when he took the stage at the MTV Europe Music Awards, honoree Queen guitarist Brian May noted that Lambert's voice has "sensitivity, depth, maturity, and awesome range and power which will make jaws drop," while Roger Taylor added that Lambert had "the best range I've ever heard" in a BBC interview in 2012. Pharrell Williams, after collaborating with Lambert on his Trespassing album, commented, "This kid has a voice like a siren – there's no guys singing in that Steve Winwood-Peter Cetera range." In October 2012, British tabloid the Sunday Mirror reported that Lambert had insured his voice for $48 million. A source told the newspaper: "Insurance for stars is a big deal in the US and Adam's voice is his bacon."
Early Life
Lambert was born in Indianapolis on January 29, 1982, to mother Leila, an interior designer; and father Eber Lambert, a program manager for Novatel Wireless. He has a younger brother, Neil. His father is of mostly Norwegian descent and his mother is Jewish. Lambert was raised in his mother's religion and has performed songs in Hebrew, such as "Shir LaShalom" and "The Prayer" at a 2005 tribute concert to assassinated Israeli Prime Minister Yitzhak Rabin,[as well as at the San Diego Temple of the Arts. Shortly after his birth, his family moved to San Diego, California, settling in Rancho Peñasquitos. Lambert began performing with Metropolitan Educational Theatre network (now MET2) from the age of nine, and appeared in local productions of You're a Good Man, Charlie Brown and Fiddler on the Roof, among others. A few years later, he began more intense acting and vocal coaching, continuing to perform with both MET2 and what was to become the Broadway Bound Youth Theatre Foundation, as he moved through Mesa Verde Middle School and then Mount Carmel High School. There, he became heavily involved with theater and choir, performed vocals with the school's jazz band, and competed in the local Air Bands competitions. He also appeared in local professional productions such as Hello, Dolly!, Camelot, The Music Man, Grease, Chess and Peter Pan, at venues such as The Starlight, The Lyceum and others. After graduating in 2000, he attended California State University, Fullerton, but left after five weeks to move to Los Angeles: "I just decided that what I really wanted to do was try to work in the real entertainment world. Life is all about taking risks to get what you want."
Community content is available under
CC-BY-SA
unless otherwise noted.